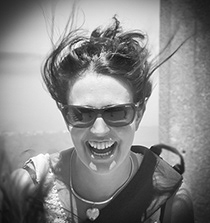 Based in Dublin, Ireland / Canon 6D / Lightroom & Photoshop
Seeing Softly is the name I use for my photographic alter ego. As this person, I step away from the bustle and flurry to view the world through a softer lens. I aim to turn photography into stories, or better still, poetry. I often capture scenes that depict people or animals in a setting bigger than themselves. In this way my images tell a story about this time, this place and perhaps even offer insight into who we are.
I particularly seek out those moments where the subjects, often unknowingly, are surrounded by the beauty of the vast, as they focus on small details. Through using subjects that are unidentifiable or indistinct (or in some cases have even stepped out of the picture), I aim to make the moment more relatable to the viewer. Colour-enriching light and the soft touch of a digital paintbrush add depth and sensation to the images.
I wish for the viewer to share the moment and feel their own immersion in the scene. And then I hope that they will take something of it away with them, whether it is to be kinder to our precious planet, to appreciate the beauty close to home or to make more special moments with loved ones.   
Some articles on my work: 
For any enquires, see the handy contact form - it goes straight to my inbox!